Green Memories
Green Memories First Release
---
Sorry for the delay, we were focusing on one of our projects (which recently got a port for Nintendo Switch and PS4/PS5), so we ended up running out of time for the devlog, but we've come a long way on Green Memories, and we're confident it will be a great experience for you!
First, we want you to meet our protagonist, Cytra.

She is a scientist, and the main objective of her mission is to collect data from weather stations in an unknown part of the planet, installed by a team that disappeared there.
How do the survival mechanics work?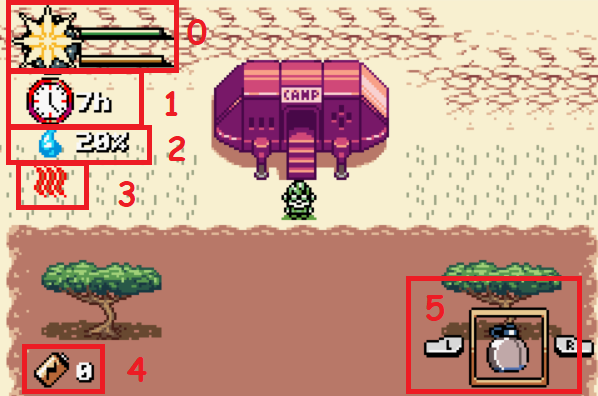 Briefly:
0 - These bars represent your health and stamina points (which is used to run or do an action with your items)
1 - The clock helps you control your schedule, after all, day and night have different consequences on gameplay
2 - This is your hygrometer, it shows the relative humidity of the soil you are stepping on, it helps you to know which soil has enough water for you to dig and fill your canteen

3 - During the day, if you are not under shade or above damp ground, the heat will make you lose some health points continuously.
4 - In this dystopian future, batteries are a currency
5 - Here your active item is displayed. For this version of GBA Jam we only planned 2 items, the canteen and a pistol to destroy your enemies,but if the project continues, we plan to add more different items (What would you add?)
GBA Jam 2022 ends on October 31st, but we plan to submit the project the day before, until then, thank you for following our project!